PDT Digital Trunking Communication Thematic Seminar Was Held In Shenzhen
(March 23, 2010)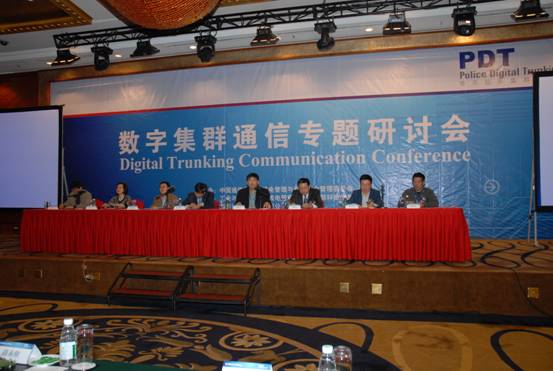 On March 23, 2010, aimed at improving China's digital trunking communication level, and driving the development of digital trunking industry, and promoting application of digital trunking industry, as well as strengthening digital trunking technology exchange, hosted by Radio Application and Management Committee under China Institute of Communication , guided by Radio Authority under Ministry of Industry and Information Technology, and Technology and Information Technology Bureau under Ministry of Public Security, assisted by Hytera Communication Stock Co', Ltd. , the "Digital Trunking Thematic Seminar" was held in Shenzhen. It is report, this meeting mainly reported results of police digital trunk (PDT) standard to the experts of Ministry of Public Security, experts of wireless communication and user representatives of the public security system. All experts of the Wireless Communication Committee, representatives of the local public security system, the PDT Alliance members and other wireless communications companies, a total of more than 200 people attended the forum.
In recent years, the professional wireless communications required by public security is increasing, and the traditional simulation trunking is of inherent shortage of low frequency spectrum utilization, small system capacity , single business function, poor secure confidentiality, and the TETRA system applied more in the world is of issues of small coverage, high cost for networking, difficult to be compatible with simulation systems and foreign intellectual property barriers. Chinese public security needs a new digital trunking standard with independent intellectual property rights, and suitable to domestic public security simulation system digital transformation.
As early as August 4, 2008, the Information Communication Bureau under Ministry of Public Security hosted a strategy seminar in Shenzhen for police wireless communication digital development, and established the China PDT (Police Digital Trunking) Industrial Alliance. This forum reported the results on implementing the discussion content at 2008 Forum. Hytera, authorized by Ministry of Public Security, as a leading unit (Vice President) to formulate the standard for China police digital interphone, successfully assisted this digital trunking seminar, focusing on domestic public safety customer demand, actively participating in formulation of PDT standards and product development in China and shall provide a range of solutions of quality digital trunking system for the domestic public security customers.
As PDT standard core manufacturer, the Hyterain shall sell in markets the communication devices according with PDT standard in April this year. Hytera President Chen Qingzhou said: " The PDT trunking system provided by Hytera has independent intellectual property, implements single cell coverage, can lower cost of networking, and can also meet the high quality voice communication and short data application required by public security, and can provide confidential function reserved interface, meet the communication security reliable aspects required by public security system. In system networking aspects, PDT can provide perfect interconnection between systems, can meet national networking. Hytera shall provide to the public security departments the dare- use, easy to use and affordable digital trunking solution. "
At the same time, the other members of the PDT Alliance, Beijing Wange, Sichuan Witec, Guangzhou Witec, Hangzhou Neolink, Beijing Nuodaxin, First Institute under the Ministry of Public Security supported and responded the PDT standards at the meeting. In addition, the wireless communication experts of other manufacturers Motorola, European Aerospace Defence Community and Nanjing University of Aeronautics and Astronautics of professional wireless communication industry actively attended the meeting to participate in the in-depth discussion and exchange of PDT technology application and market development.